It's Friday with a 4 day weekend that greets me at 5 pm! Whoohooo!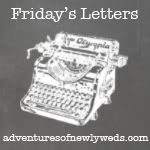 Dear Unorganized Clutter Everywhere Home
, I am ready to get down and dirty with you! Meaning you are in for a serious cleaning this weekend! Not to mention you are in need of organization! I can't take it anymore! It's to the point that I look around and don't even know where to begin!
Dear Amish Mafia
, I can not even take you seriously! I can't help but laugh when these "mafia men" handle their business and the screen blacks out with text stating they can't show what happened! Really? Is this a joke?!
Dear Shellac Manicure
, I freaking love you! I love how you make my fingers look so girly and how you last for so long! I really need to treat myself to you more often!
Dear Christmas
, I'm not going to lie, I'm ready for you to get here! This was the first year I waited till the last minute to Christmas shop and needless to say I can feel my face preparing for a stress break out at any moment!
Dear Baby Reef
, you make our family complete! I adore how funny you are, how snuggly you are, how well behaved you are! Your personality never ceases to make me smile! I love you my little furry child and thank God daily for picking us to be your family! I'm also obsessed with these photos of you from daycare this week!
Precious!
Have a fabulous weekend, darlings!!!